If you check my blog regularly, you'll know I recently made the switch to full frame with my purchase of the D610. Because of that, I'm looking to sell my Nikon D7000, along with three lenses that I won't be using on the new camera (includes battery, charger, and 8GB Sandisk Extreme memory card). Lots of more information about everything below, so read on if you're interested. Price is $950 for everything pictured below (+ shipping).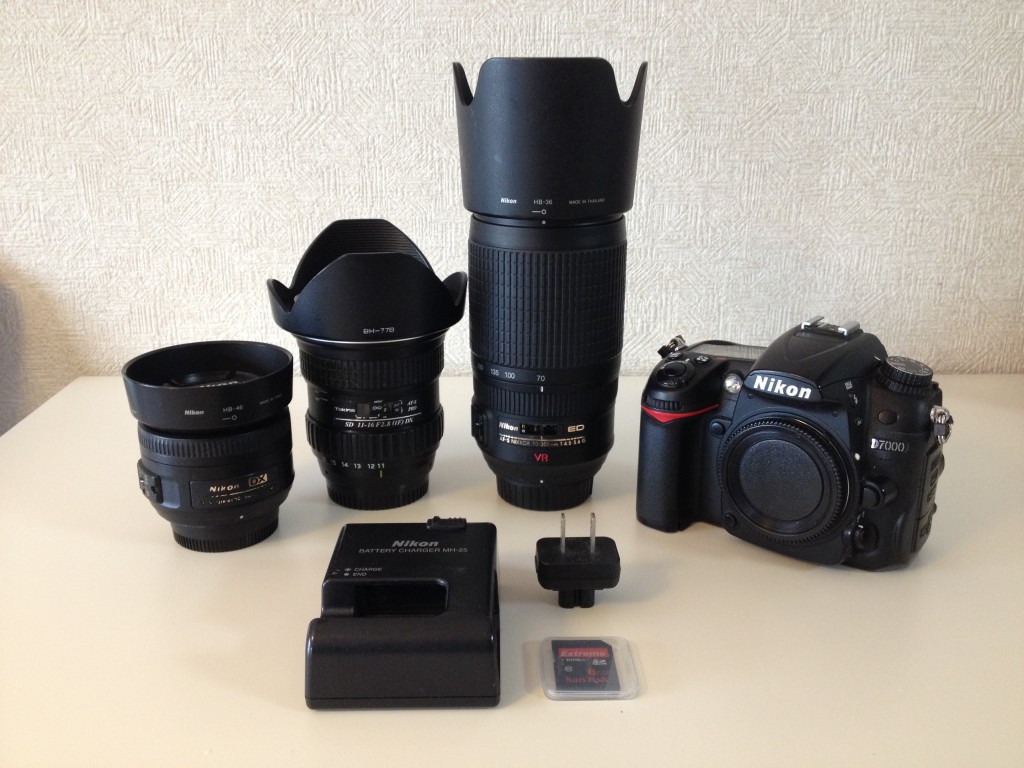 All of these items are in good working condition. They have, of course, been well used and show normal signs of wear from the usage. Here's each item one by one.
Nikon D7000
I've taken around 40,000 pictures with this camera. Not sure of the exact count, but it's in that area. Everything on it works well. I've kept the LCD protector on the camera since the day I bought it, so the LCD itself is in good condition with no major scratches or problems. All buttons work fine with no response issues. Click on the images below to see large:
Tokina 11-16mm f/2.8
This lens has been a real workhorse for me. Most of my images over the last several years have come with the Tokina mounted on the D7000. It's in good working condition, however it does shows signs of all the use. The distance indicator has a crack on it, and the area around it is a bit scuffed (this happened when I foolishly carried my lenses and camera together in a messenger bag). The front element is in good condition, while the rear element has a small area that's scuffed a little. However, I've not seen this affect image quality at all. One final point is that the rubber on the zoom ring is a little loose, but nothing major. Lens caps and hood included. The final image below is one I took in August 2014 using this lens. Click on the images below to see large: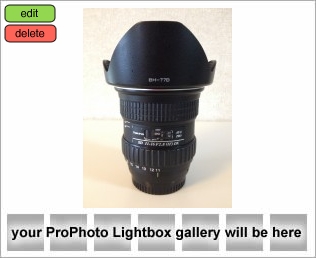 Nikon 35mm f/1.8G
This is a really fantastic lens, and is in good condition. It produces lovely bokeh at its wider f-stops, with very quiet focus. There are some signs of wear on the body (e.g. gold on the lettering is worn off a bit) but nothing of consequence. Both front and rear elements are in good condition. There is a little bit of dust inside the lens, which is normal for a used lens, and does not impact image quality in my experience. Lens caps and hood included. The final image below is one I took in April 2014 using this lens. Click on the images below to see large: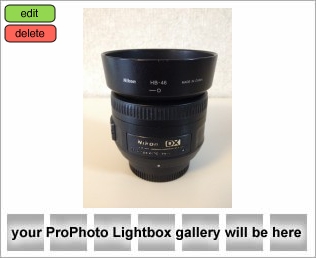 Nikon 70-300mm VR
I've not used this lens a whole lot, as it's kind of a specialty lens for special situations. However, there are times where without it, I would have completely missed some amazing shots. One of my favorite shots of Tokyo (the last image below) was taken with this lens on the D7000. The lens is in good condition overall. The body is clean and shows little sign of wear, and both front and rear elements also show little sign of use, with no scratches or scuffs that I can tell.  However, it does have one odd problem – when focusing, lens seems to shake a little at random times. It is mostly just annoying in my experience, and image quality is completely unaffected as far as I can tell. Lens caps and hood included. Click on the images below to see large:
So that's a pretty good overview of each item I'm selling here. I think this would be a fantastic kit for someone starting out in photography, or for someone just looking for a decent back up kit. Honestly, I'd keep it but I'd prefer to put the money toward an FX lens for my new camera at the moment, which is the only reason I'm selling this. Again, the price is $950 for the whole kit. I live in Japan but am willing to ship overseas. Shipping cost will be calculated once I know the appropriate address, but I will try to keep it as low as reasonably possible. If you have any questions or are interested in purchasing, you can contact me by clicking here. Please feel free to share this with anyone you know who might be interested!