Fall is here, and that means it's time for fall colors to start popping! This is definitely my favorite time of year both personally and as a photographer. Crisp autumn air, crackling leaves beneath your feet, and vibrant colors all around – it's the perfect atmosphere for getting out with your camera! I've spent a lot of time over the years doing just that, so I wanted to share some helpful tips that I've learned from these experiences. Hopefully these will help you create better images for yourself this fall.

Tip #1: Don't Fear The Weather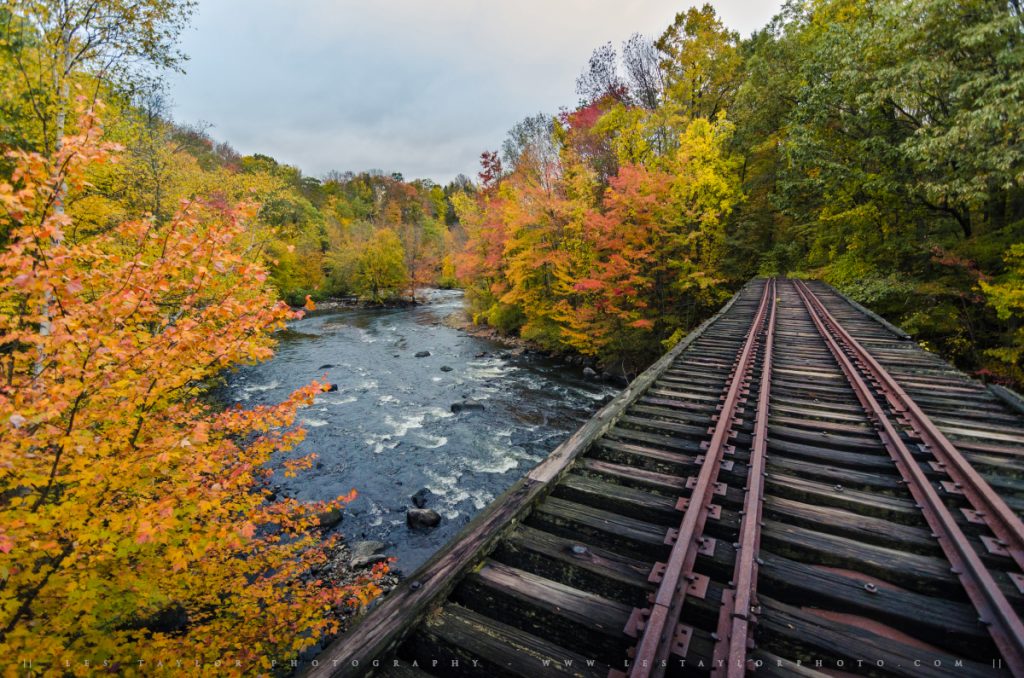 I know a lot of folks who are disappointed with cloudy or rainy days in the fall. But for me, this is actually one of my favorite times to shoot! Colors appear much more vibrant with the diffused light of a cloudy day. Additionally, some water drops on a leaf can make for a stunning photo, and it offers a great opportunity for macro photography as well. So even if it's rainy – get out and shoot! Just make sure your gear (and you yourself) don't get too wet!
Tip #2: Look For Back Lighting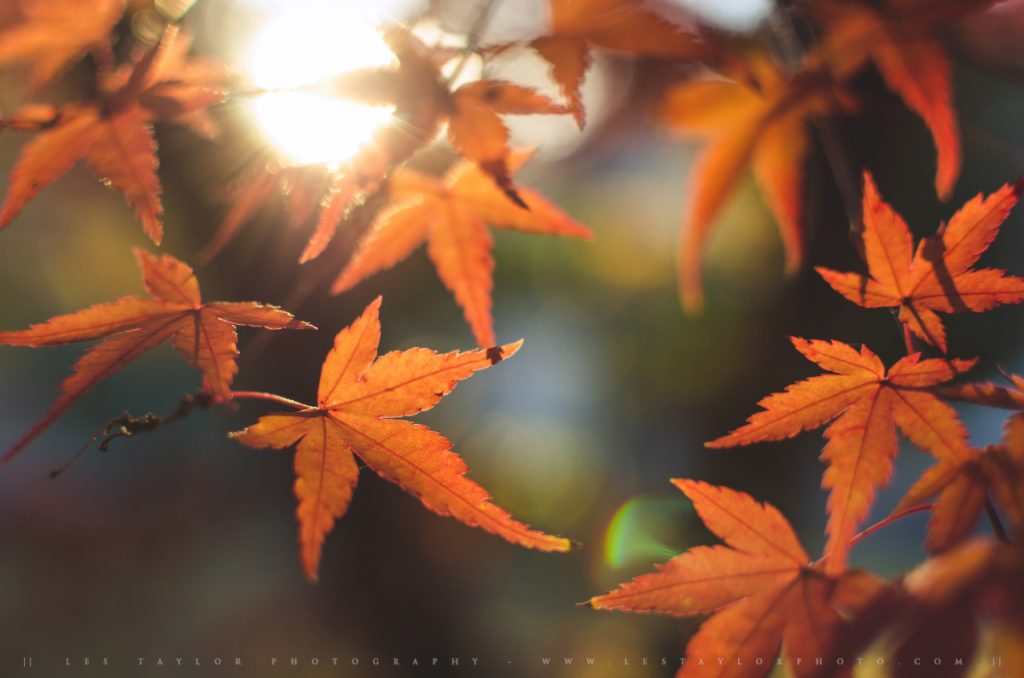 Although I don't typically like direct sunlight in autumn (because it tends to produce very harsh contrast) it can provide the opportunity to back light the leaves. Back lighting, as the name implies, is when the light comes from behind the subject. In the case of fall foliage, this gives a luminous quality to the leaves. Especially in the early morning or late evening sun, the effect can be very pleasant.
Tip #3: Find The Standouts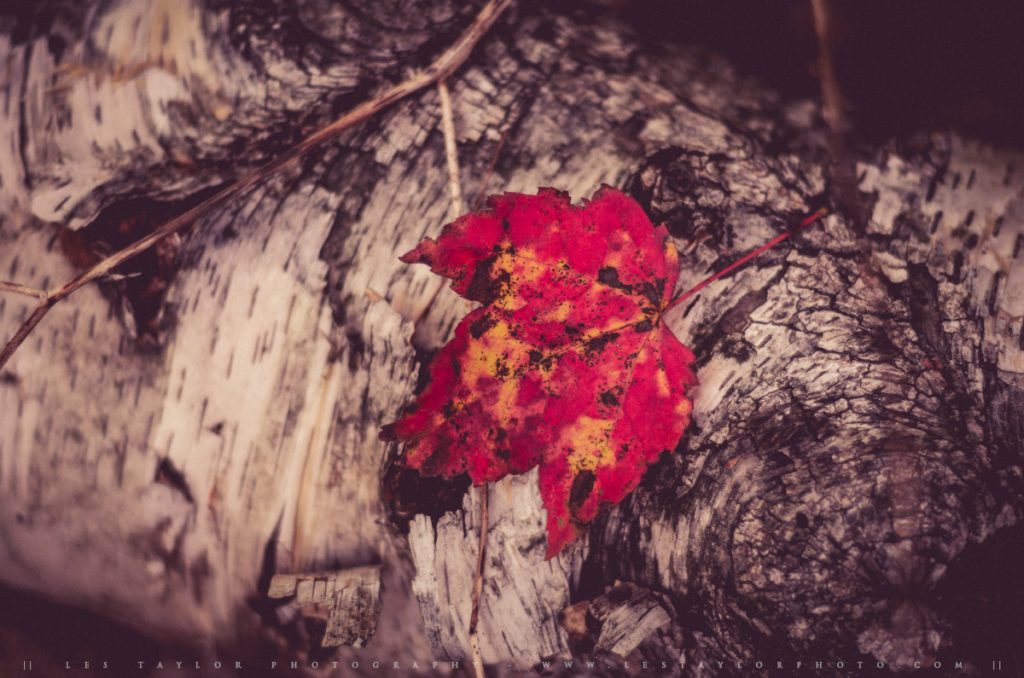 When the colors really get going it can be tempting to shoot every single leaf you see. I suggest you control that temptation and instead keep your eye out for the standouts. Look for leaves that are just about perfect – great color, great shape, few or no brown spots, things like that. Even if they're not perfect, a perfect spot can make for a great photo too. For example I enjoy photographing leaves laying on fallen trees (as in the above image). Either way, look for leaves that really stand out in some way. Once you find them, snap away!
Tip #4: Create The Scene You Want To See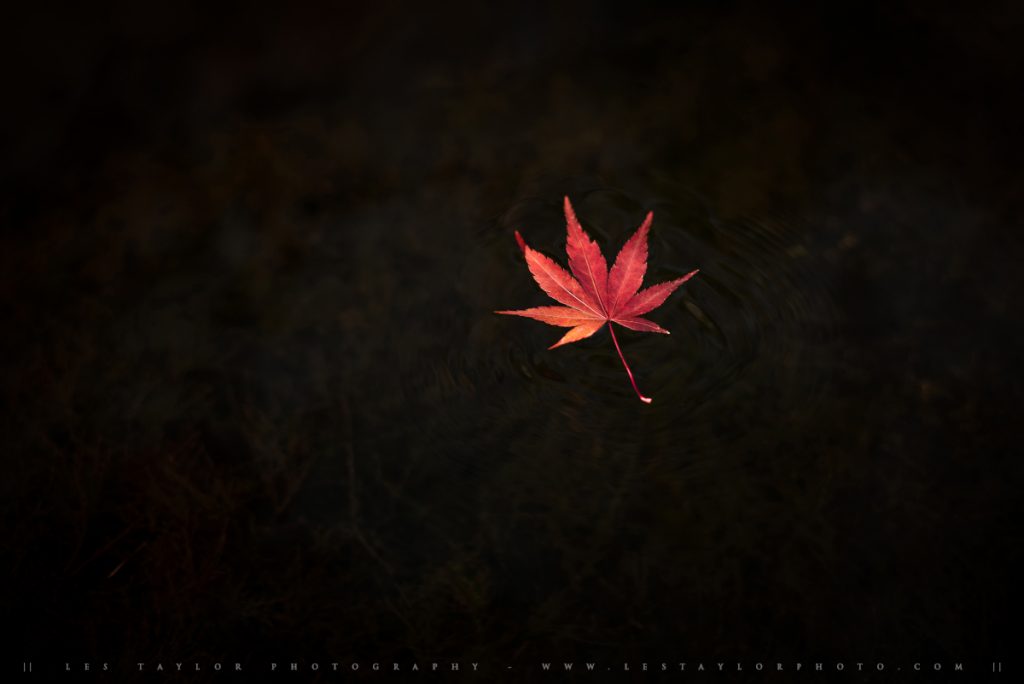 For the vast majority of my images, I don't manipulate the scene – I just come across something beautiful and figure out how to photograph it. But things don't always work out like you want, and you have to help the scene a bit. The above image is an example of that. I wanted a picture of a Japanese maple leaf in the water by itself, but you could wait for hours without even one floating past. So, I picked a nice looking leaf up that had fallen on the ground, placed it in the water, and waited for it to float to the right spot. It took about 5 or 6 attempts, but I finally got the image I wanted. Don't be afraid to experiment a little yourself, and create the scene you wish you could see.
Tip #5: Use A Polarizing Filter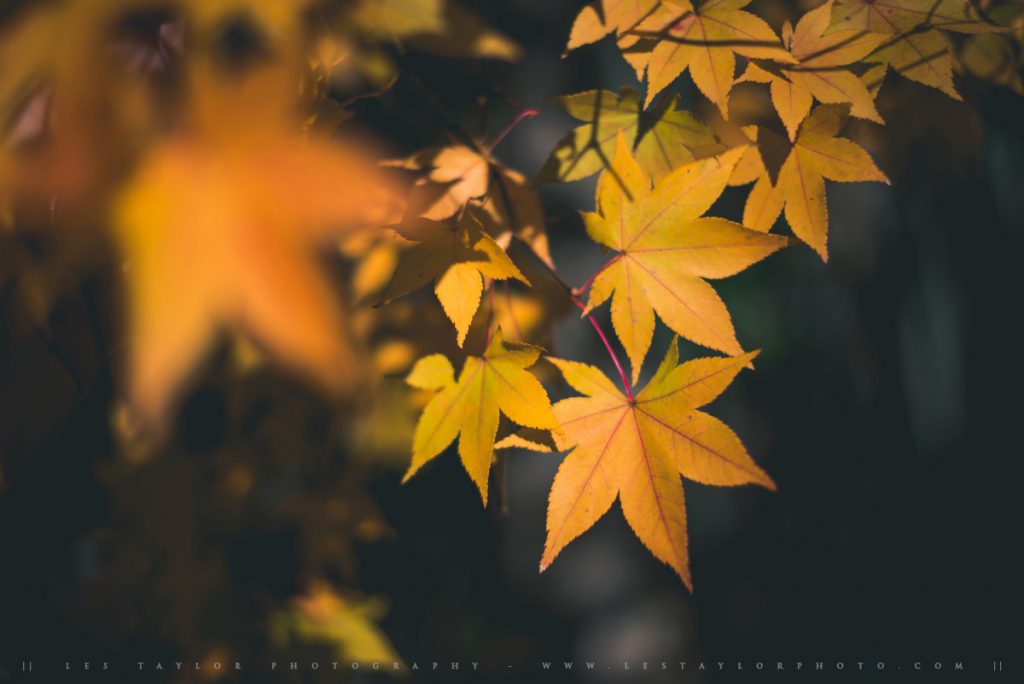 A polarizing filter is a great addition to your camera bag for any time, but this is especially true in the fall. Particularly if you're shooting during the brighter hours of the day, a polarizing filter can help cut down on glare and make the colors pop. As an example, the above image was taken in strong sunlight, but you can see how the polarizer cut right through it. Similarly, it draws out the blue of the sky which can make for a nice contrast to the red, yellow, and orange hues of the season.
Tip #6: Look For Swirling Leaves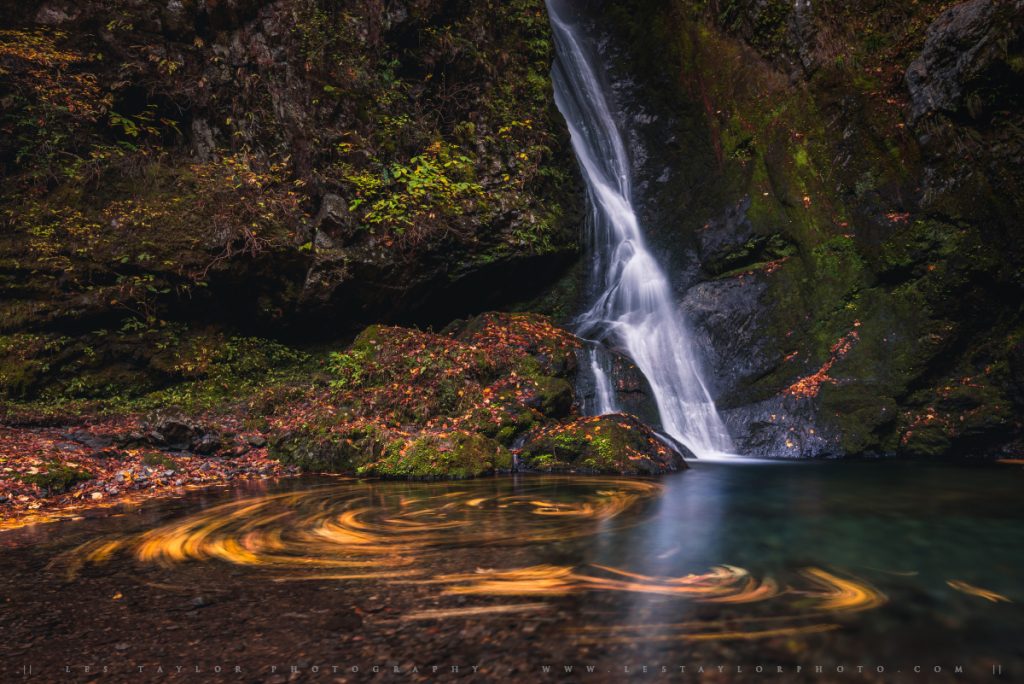 If you're around any flowing water during the autumn, one great scene to keep an eye out for is swirling autumn leaves. This can be hard to notice if you're not paying attention because, despite how it appears in the above image, the leaves will usually be swirling slowly. The best places to find them in my experience are in small corners along the edges of rivers and streams, or near waterfalls. If you're wondering how to take this kind of image, it's all about a slow shutter speed. How slow is up to you – it all depends on how fast the leaves are swirling and how much movement you want to depict in the image, though if you go too long it may become difficult to see the color of the leaves. Also keep in mind, if you're shooting in bright conditions, you will likely need a neutral density filter to achieve this effect. If you can stack a polarizing filter as well, that will help cut down the glare on the water. In the above image, it was dark enough that all I needed was a polarizing filter to get the desire effect.
Tip #7: Use Editing Software To Enhance Your Images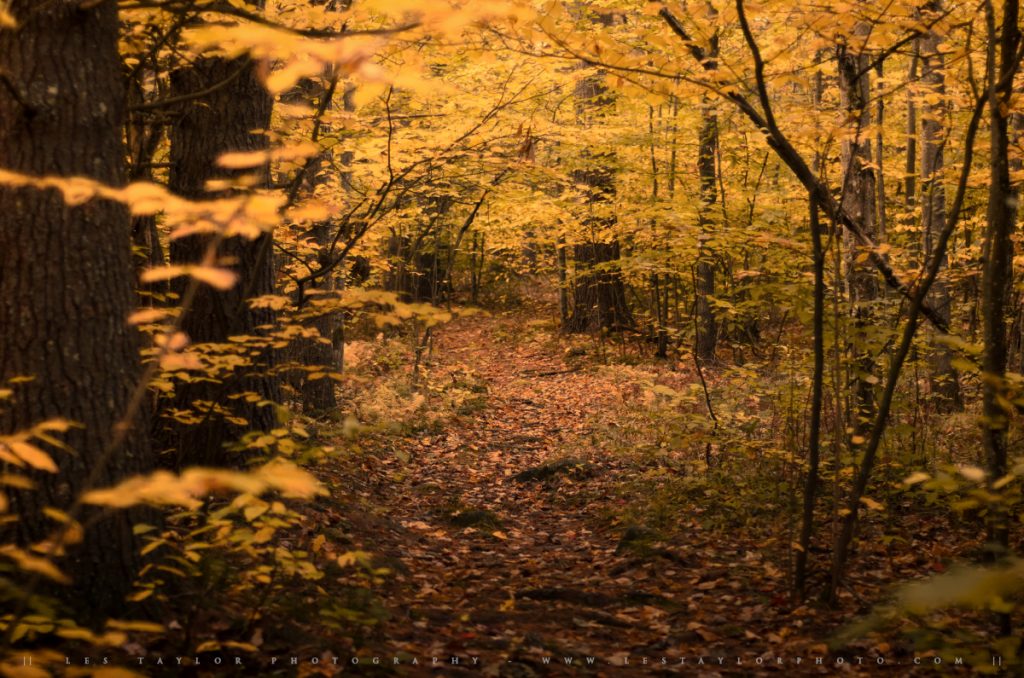 Digital cameras have come a long way in recent years, but they still don't always show the scene like you experienced it. From colors to contrast, the image straight out of the camera is usually not the same as what you saw with your own eyes. With that in mind, I recommend using editing software to enhance your images. This doesn't have to be a complicated multi-day effort in Photoshop. If you know how to control the various sliders in Lightroom for example, you can drastically improve your images in a matter of minutes. I also have a set of Lightroom Presets designed for autumn photography, which can enhance your photos with a single click! You can check them out here: Autumn Lightroom Preset Pack.
Tip #8: Don't Forget What's Close To Home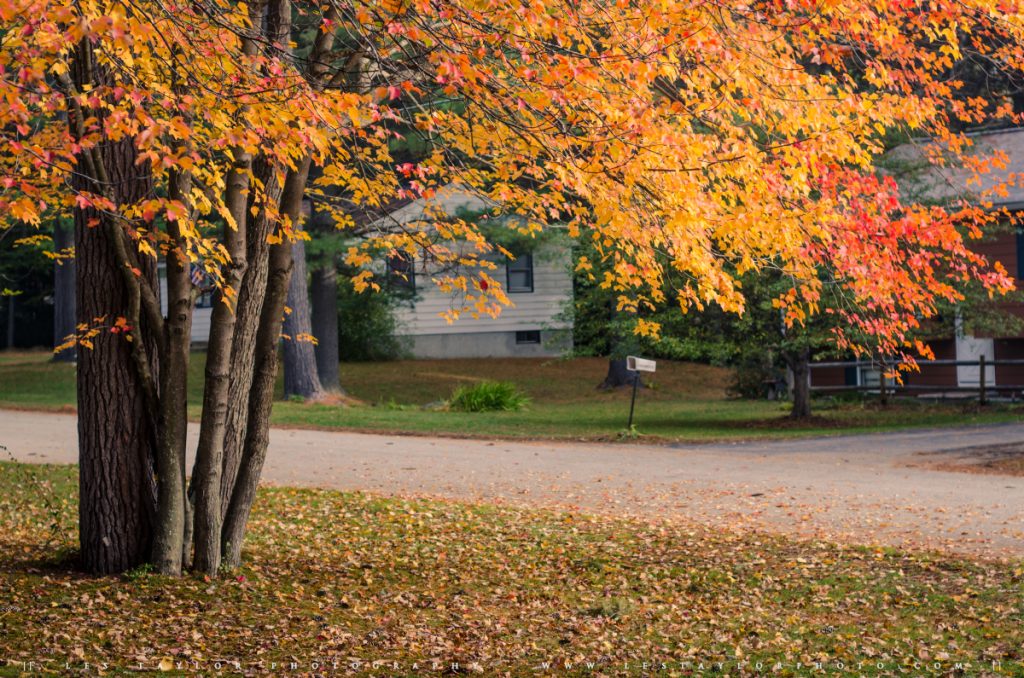 There's nothing like going for a long drive on an autumn day with the colors popping all around. But you may not always have the time, or it may just not be practical for some reason. When that's the case, don't forget what's close to home. This may be a nearby park, or even just your front yard. Sometimes these places can seem mundane because we're used to them – it might be something you see literally every day! And for that reason it can be easy to overlook just how beautiful it really is. So even if you can't go far to an amazing scenic location, you may not have to – it might be as simple as stepping out of your front door.
Bonus Tip! #9: There's More To Fall Than Foliage!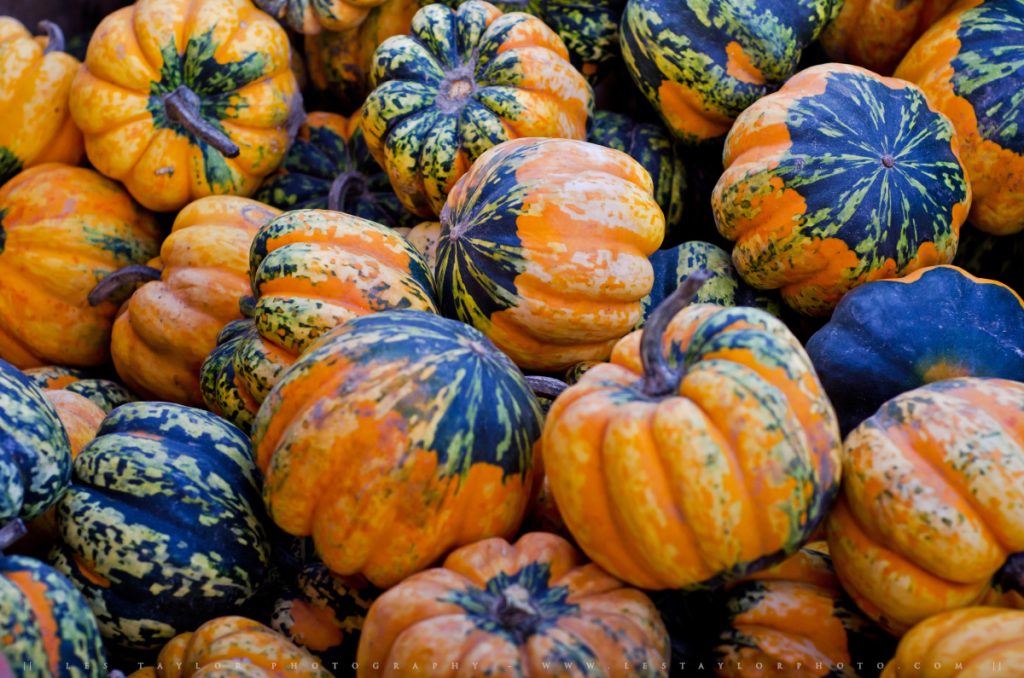 While much of the planet gets to enjoy spectacular fall colors each year, there are places that this isn't the case. I spent a lot of my younger years in Florida, a place not exactly known for autumn scenery. In fact, most of the trees where I lived were green all year long. But that doesn't mean you can't enjoy taking pictures in the fall! There are a number of things you can photograph that give off an autumn vibe. Pumpkins are a great option, as well as corn or even hay fields, not to mention indoor options like food photography. Even if there's not any foliage, there's still plenty to photograph in the fall!
These are some of my best tips for photographing fall foliage. I hope they help you as you get outside this autumn and shoot for yourself. If you have any other tips you'd like to add, feel free to let me know in the comments – I'd love to hear your thoughts! Thanks for reading, and happy shooting!
Travel with me in the White Mountains of New Hampshire and learn more about fall photography!
Join my one-day fall photography workshop here: