For several months, I've been using a new app on my phone called Polaroid Swing. Almost every photographer out there knows the Polaroid brand. Actually, my first camera ever was a Polaroid – I won it in a Halloween costume contest in the 80s when I was around 3 years old. The company has always been about offering a unique way to photograph the world, most famously with their instantly printed photos which come straight out of the camera. Many people my age or above have fond memories of, in the words of Outkast, "shaking it like a polaroid picture." With their new app Swing, Polaroid is once again venturing to change the way we see and share the world, this time through our mobile devices.
Wasn't I a cutie?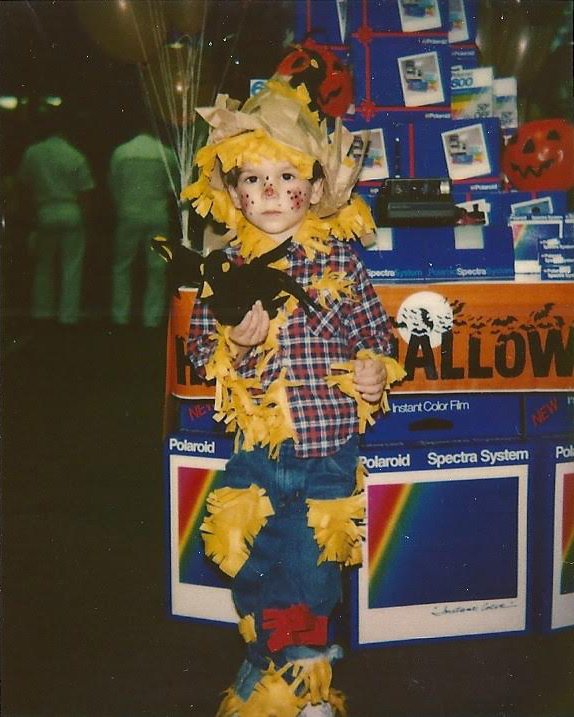 The idea behind Polaroid Swing is simple – take a still image and add just a touch of motion. Each picture has about 1 second of motion in it, and when it is displayed the viewer can move forward and backward by either scrolling with a finger or tilting the phone left and right. This interaction aspect is one of the best parts about Swing, and something it does better than other similar apps. For example, Instagram's Boomerang app also adds a touch of motion to a scene, but it only plays forward and backward over and over for a few a seconds until it stops. There is no way to actually interact with the picture. Polaroid has found a way to interact with the picture that feels natural and pleasurable. It's really fun to move the images back and forth over and over, even playing with speed as you do. The tilt option is my favorite for general interaction, while the finger scrolling option helps when you want to freeze a particularly interesting frame.
The tilt function at work: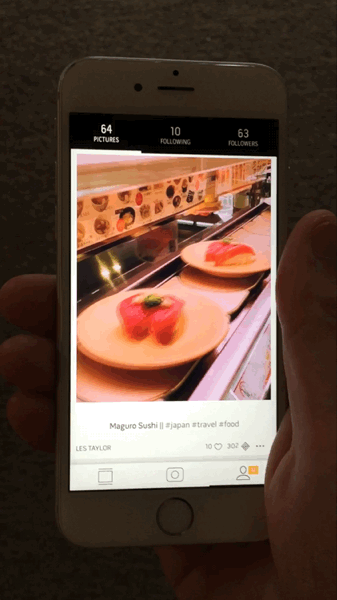 Once you take an image on Polaroid Swing, you can choose from a few filters. As of this writing, there are two color based filters and one monochrome filter. Although there aren't any adjustments available at the moment (more on that later) the filters are good and work for most situations that I have encountered. The filter called "Type 9" is probably my favorite so far, but I've used all of them with different scenes.
A Swing made with Type 9 (scroll over for movement on desktop/laptop)
What I have really come to love about Polaroid Swing is how it has opened my eyes to a new visual experience of the world. As a photographer, I'm used to thinking in terms of still images. And of course nothing can replace the still image. There are many cases where motion just doesn't make sense, plus it's a great challenge to visually express motion in a still image. But I have come to see there are many cases where that touch of motion creates visual opportunities that wouldn't exist without it. Or at least, having a bit of motion makes the image a lot more interesting. As an example, the above image of salary men walking through Tokyo could be done in a still image, but the motion here adds something special. Another example is the picture of sushi going by on a conveyor belt (see below). It's conveyor belt sushi – movement is part of the fun! Yet, a video is too much while a still image is not quite enough. Polaroid Swing offers a perfect medium to share the experience.
Sushi + Polaroid Swing
With all of that said, the app does have some room for improvement. My guess is at least a few of these will be addressed in future updates, but for now, here are some things I think would improve the Swing experience:
More filters (some maybe for purchase?) and more user control over how to apply filters
An option to lock focus (it was nearly impossible to focus on fireworks for example)
Higher quality pictures
Easier embedding options
A profile page with my pictures that can be accessed on desktops/laptops
Again, I'm sure some of these are in the pipeline, and I certainly look forward to when those updates are released.
In the meantime, even without any of those options, Polaroid Swing is a great app. It's lots of fun, super easy to use, and most importantly has helped me see the world around me in a slightly different way. That not only makes Swing a great app on its own, but ultimately helps make me a better photographer in general.
Check out Polaroid Swing and download it for free right here