Last week I had the pleasure of paying a visit to Okayama Prefecture with my family. Before we went, I was especially looking forward to photographing some spots I had perhaps neglected when we lived there. One place that was high on my list was the Kurashiki Bikan Historical District. This area is filled with old merchant buildings of the 17th century, and even has no electrical lines running around it in order to preserve the feel of old Japan. Considering the beauty of this area, I was surprised especially to find that there are relatively few photos of the area online. So when I went there this time, my goal was not just to take photos that I enjoyed, but ones that showed a little of the beauty and atmosphere of the area. With that in mind, I hope you'll enjoy these photos. The Kurashiki Bikan District is a really wonderful area of Japan, and one you should make sure to add to your travel list if you're in Japan.
This was probably my favorite photo of the evening. The boat in the photo is used during the day to give people rides along the lovely canal, which is full of colorful carp. Some swan call the area home as well.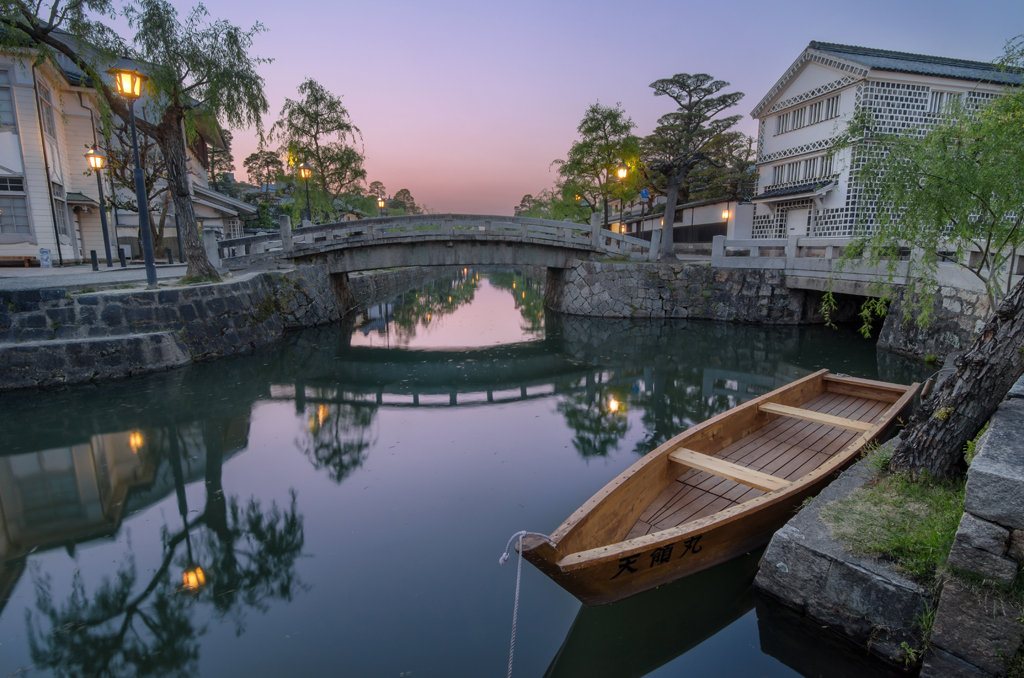 Click Here To Purchase A Print
Of course, the beauty of the historical district isn't the only thing you want to capture. It's also important to capture the movement and activity of people in the area. To me this is just as much a part of the visit as the scenery itself.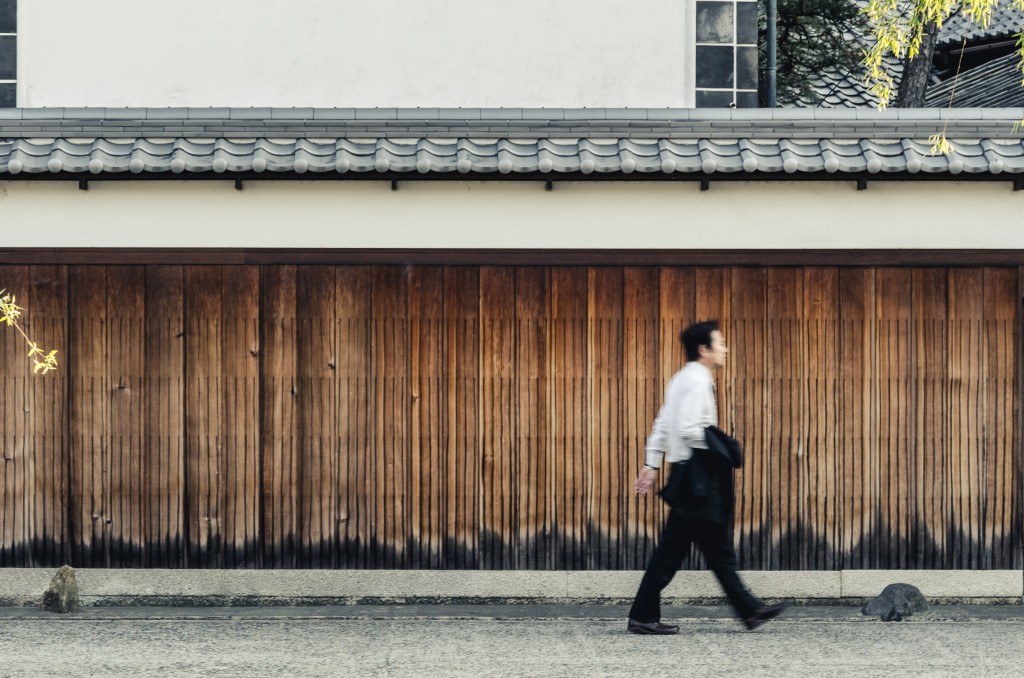 Click Here To Purchase A Print
This alley struck me as really interesting, so I took a few shots down it. The guy with the blue bucket worked at a local shop and had just tossed out a bucket of water. He did this a couple of times, though I'm not exactly sure why. Maybe after a long stressful day, it just feels good to toss a few buckets of water.
Click Here To Purchase A Print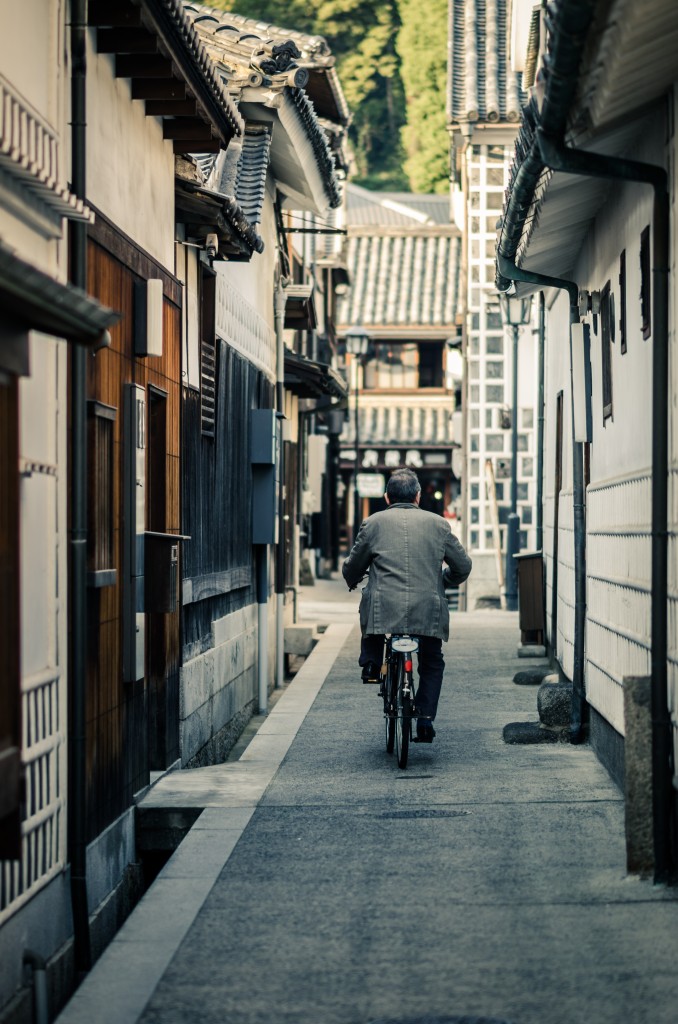 Click Here To Purchase A Print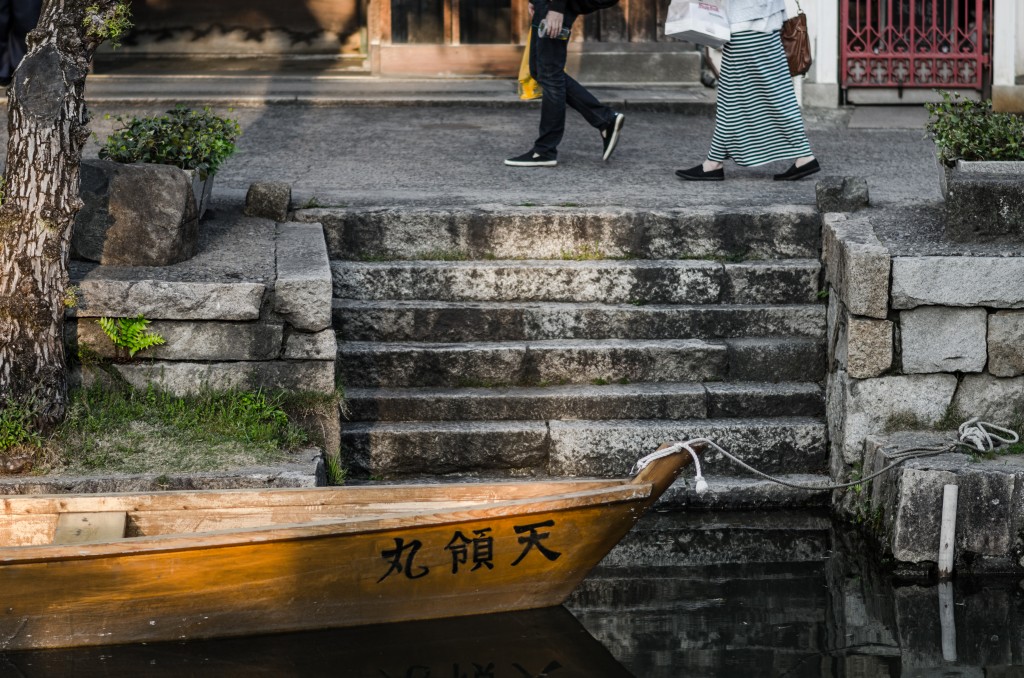 Click Here To Purchase A Print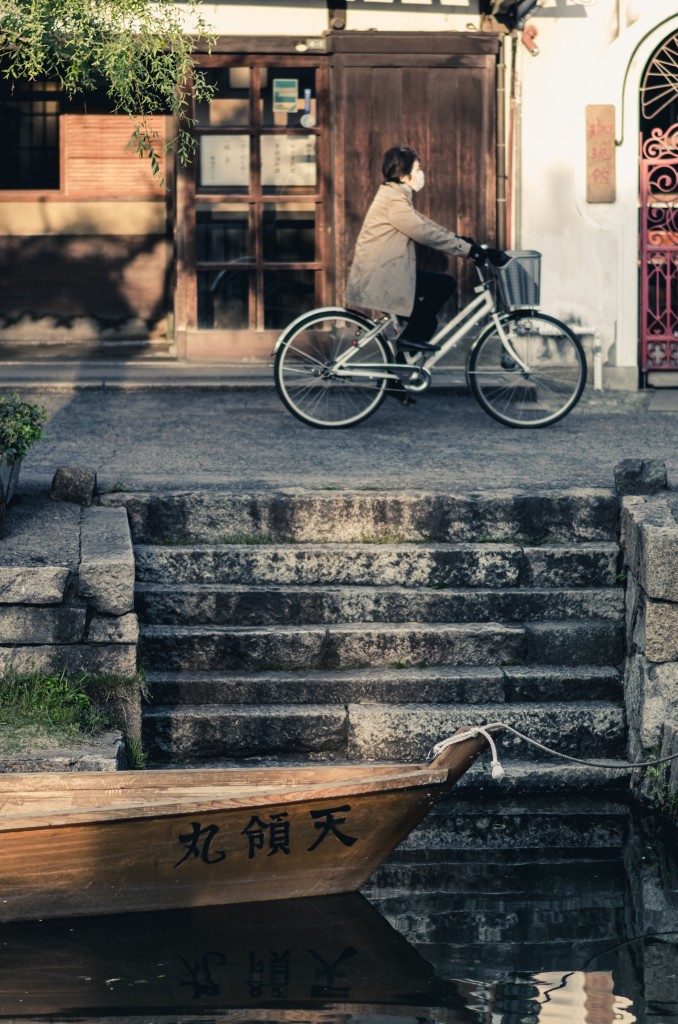 Click Here To Purchase A Print
This was one of my favorite shots from the evening. I knew there was something interesting down this street, but I was waiting for the right person to make their way through the buildings. This delivery guy did just the trick! And it makes for a good contrast I think – the modern delivery man working in this old section of Japan.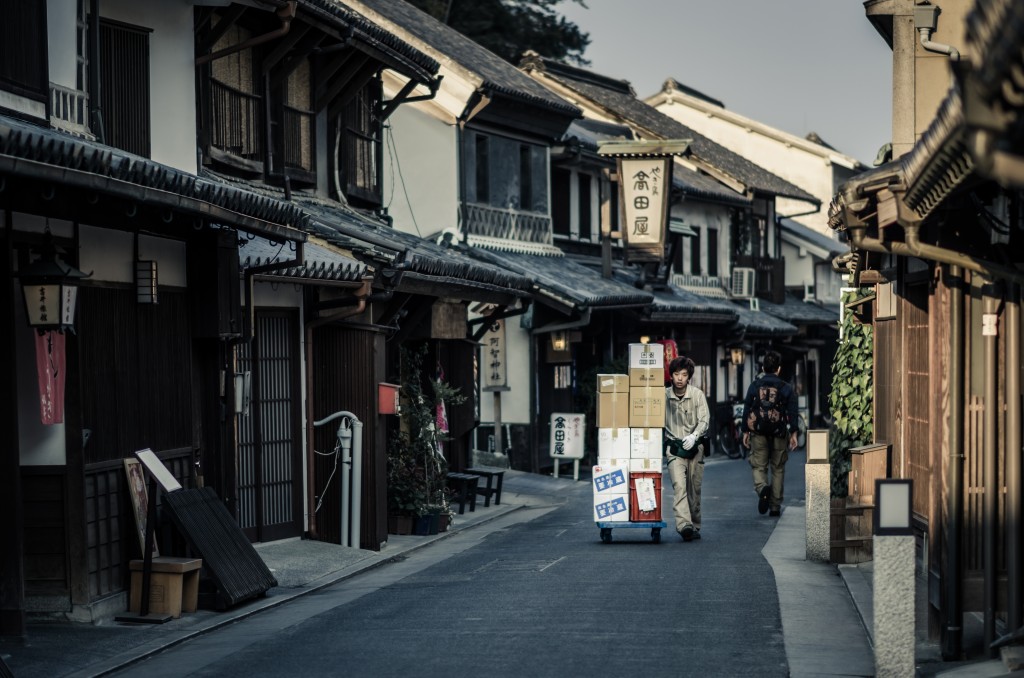 Click Here To Purchase A Print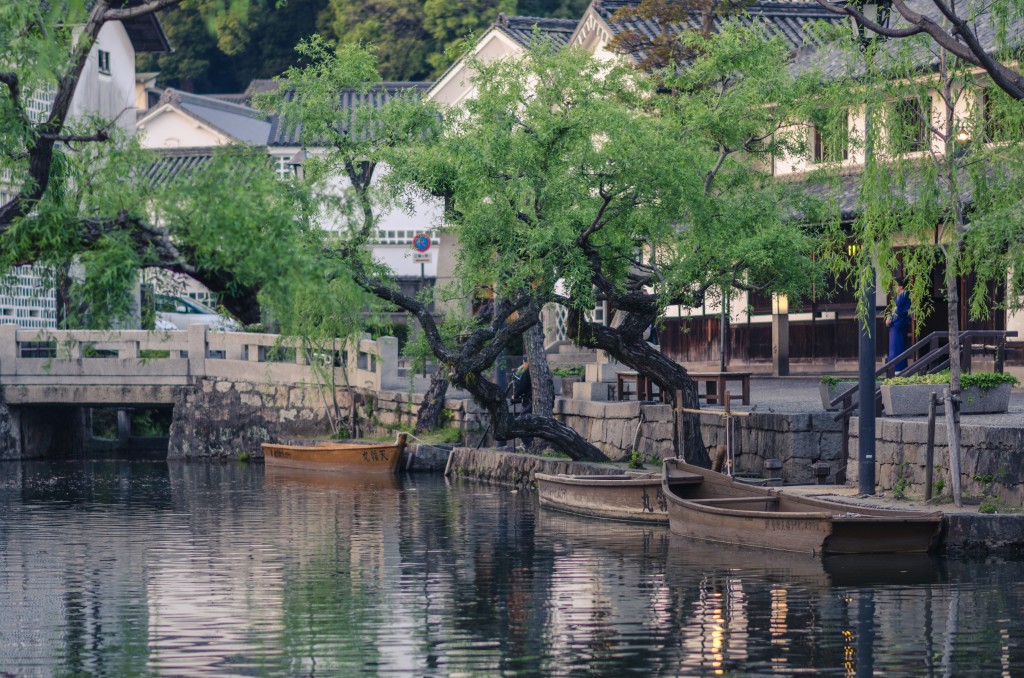 Click Here To Purchase A Print
As blue hour begins to make its way across the area and things get darker, the historical Bikan District of Kurashiki takes on a new atmosphere. The mix of white and black of the buildings, the blue of the sky and water, and the street lanterns lighting up … it's really a special scene. What's perhaps more amazing is that there are so few people around at this time. The district is almost still at this time of day, which allows a photographer like myself to explore and take all the photos I want!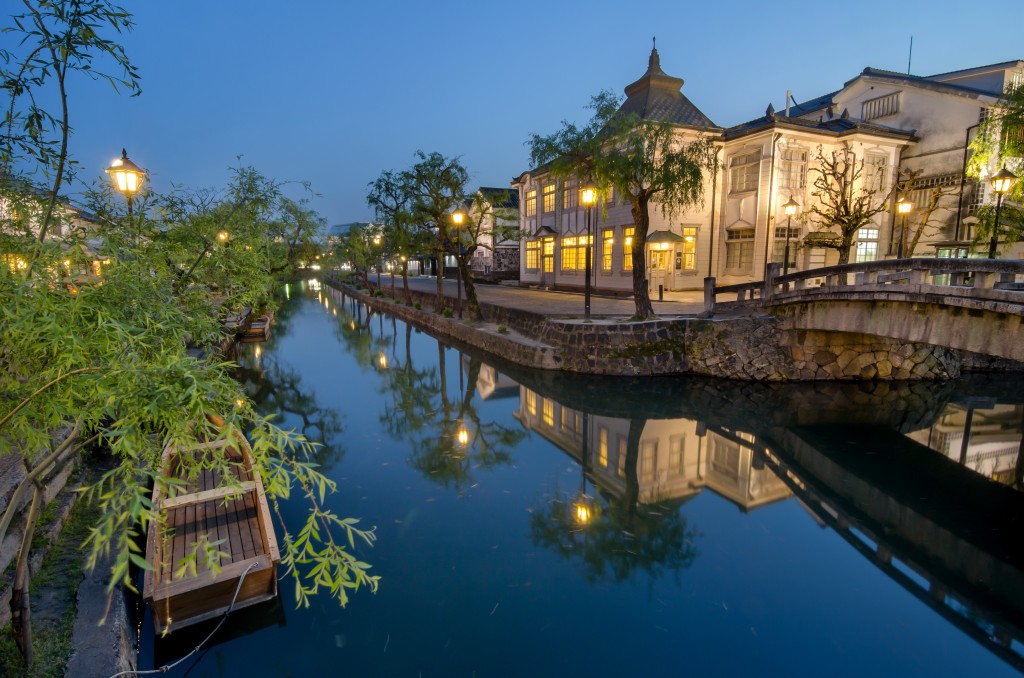 Click Here To Purchase A Print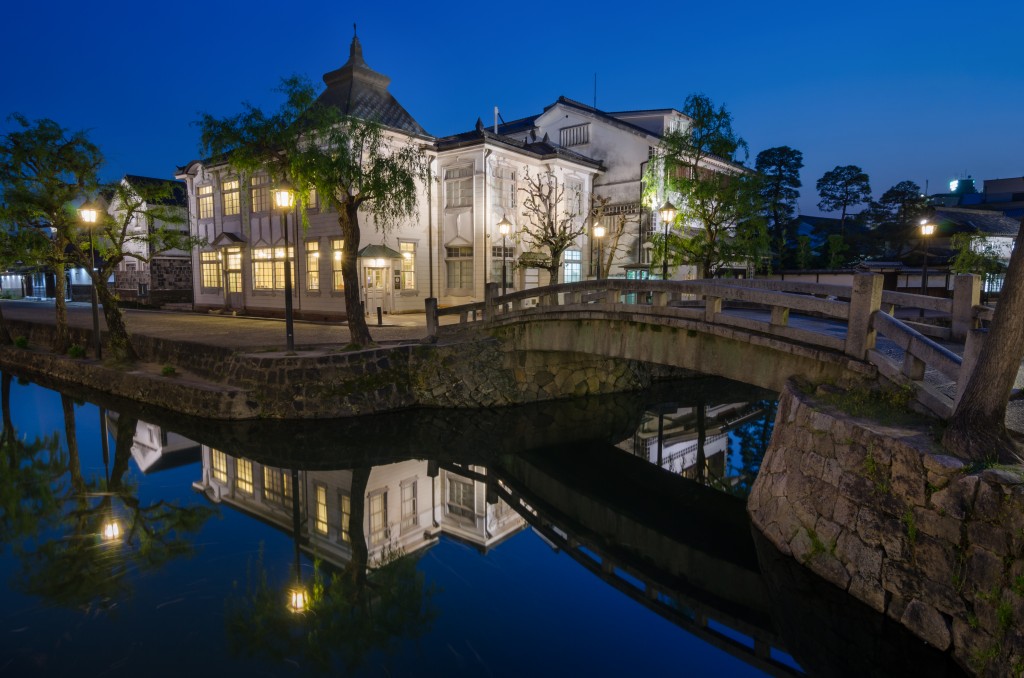 Click Here To Purchase A Print
Even long after the blue of the sky has faded to black, the Bikan District is full of interesting sights. Of course, most of the shops close so there's not much to do, but that doesn't mean you can't walk around and enjoy the peace and quiet of old Japan (and perhaps snap a few photos).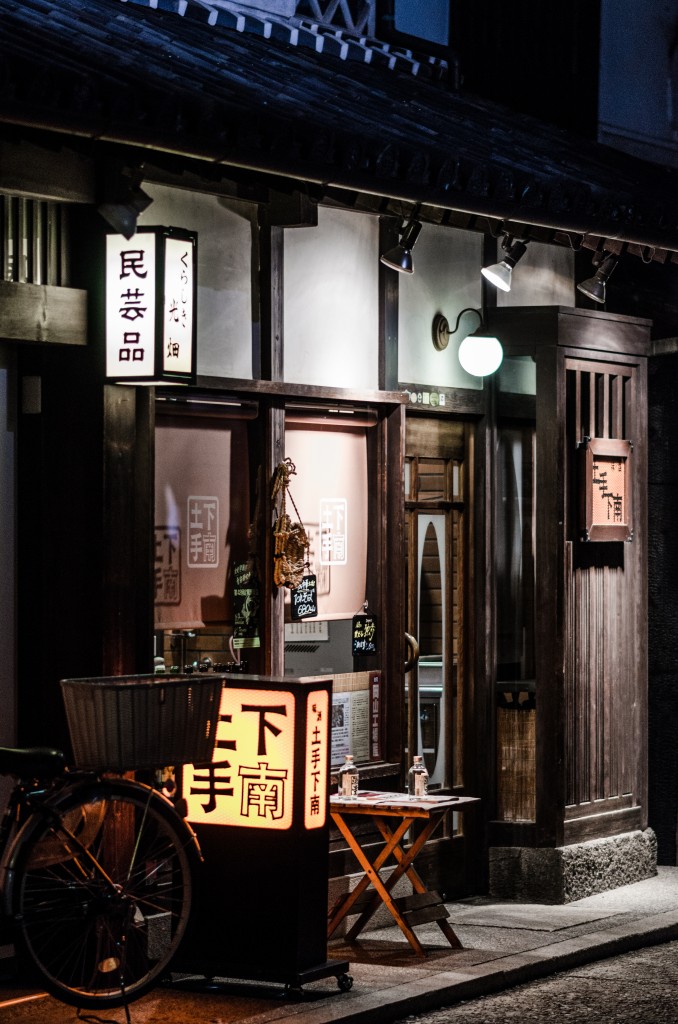 Click Here To Purchase A Print
Click Here To Purchase A Print
There's no doubt the historical Bikan District of Kurashiki City is one of Japan's best kept secrets. Although it does see its fair share of tourism, it's nothing compared to many of Japan's other famous locations. But between the history and atmosphere of this gorgeous quarter of Kurashiki, it certainly ranks up there with the best. I hope you enjoyed the photos, and thanks for stopping by!