A couple of months ago my family and I had the opportunity to meet a Kimono specialist by the name of Yoko. She actually came over to a friend's house and dressed all our children up in traditional Japanese kimonos. Being the only photographer present, I ended up taking pictures of all the kids after she had dressed them all up. This also gave me a chance to talk a little about my photography, and since I had my iPad handy, I was able to show some other photos I've taken. Anyway, as is often the case in life, this meeting presented another opportunity – the chance to shoot Yoko in one of her splendid kimonos.
If you've followed my photography for any length of time, you know that most of what I shoot is landscape or travel photographs. My experience doing portraits (outside of my own children) is pretty limited, so I wasn't totally comfortable going into this shoot. But that's exactly the reason I wanted to do it – to push outside of my comfort zone and grow my photographic skill set. That is very often the only way to grow, no matter what area you're talking about. You have to allow yourself to be uncomfortable and push through it.
One of the best ways to overcome that discomfort is proper preparation, so one of the first things I did was some location scouting. I had a basic idea in my mind of the kind of photos I wanted to take, but I needed a good backdrop for them. I ended up choosing Mizumoto Koen in Tokyo. There are lots of trees and grass (a rare thing in this area), and few people, especially around sunset. On top of that, it's close to my home, so it was really a prime location. In preparation, not only did I visit and walk around in person, but also took some preliminary photos. Although Yoko wasn't there at this time, getting an idea of what I want to shoot ahead of time allows me to be more efficient when I'm actually shooting with her in the frame. She and I also discussed some about her wardrobe. She has dozens of beautiful kimono, so this was one of the harder aspects of preparation. I wanted to make sure we had something elegant, light, and fitting for the natural surrounding of the park, so the one she wore in these photos I think worked perfectly.
I'm really happy with how the shoot went down, and Yoko and I talked about doing some more in the future. She's a pretty busy lady, but I hope we can – it was a lot of fun, and a good challenge (a challenge I'm really glad I took). The following photos were some of my favorites from the evening.
If you're in the Tokyo area and are interested in having me take some photos for you, you can message me by clicking here: Contact Les.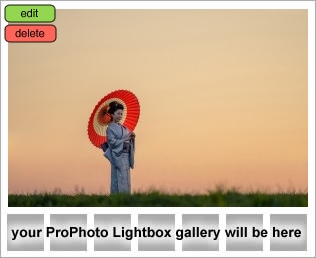 Photos Available For Licensing On Stocksy United