About The Mt. Fuji Spring Photography Adventure
Mt. Fuji has long served as a symbol for the unique beauty of Japan. At 12,389 feet tall (3,776 meters), it is the tallest mountain in the country. Additionally, in 2013, it became an official World Heritage site, marking its significance not only for Japan, but for the entire world. In this five-day photography adventure, you'll experience that significance firsthand as you join professional photographer Les Taylor, along with nine other photographers, exploring all that the Fuji Five Lakes area has to offer. Sunrises, sunsets, sakura (cherry blossoms), and stars are just some of the scenic views we'll take in as we travel around. Additionally, you'll have the chance to interact with Les during several post-processing sessions throughout the week, as he shows you how to edit your images to take them to the next level. But this adventure is about more than just photography—that's why it's called a photography adventure! During our journey, we'll stay in a classic Japanese inn (equipped with a private natural hot spring bath), visit an ancient mountainside temple, enjoy delicious local and seasonal foods, and much more—all included in the price of the tour. (See the cost section below for more details.) This is where the expertise of Japan Travel will especially be felt, as they make sure we get to experience it all in style! This is truly a one-of-a-kind trip, and a once-in-a-lifetime opportunity to experience and photograph the majesty of Mt. Fuji.
About Leslie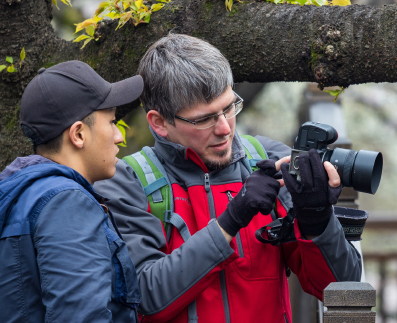 Les Taylor is an American photographer with abundant experience photographing both cherry blossoms and Mt. Fuji. Aside from selling prints and licensing of his images, he has also done many photographic assignments for Japan Travel, and his work has appeared in publications like National Geographic Traveler Magazine and Jetstar Magazine. In addition to his experience leading photo tours in the country, Les also has nearly 10 years of experience as a resident of Japan—so not only does he know the country well, but he also speaks Japanese, making him the perfect guide for a photography adventure like this. Mt. Fuji is one of Leslie's favorite locations in Japan, and he looks forward to sharing this unique and memorable experience with you!
Dates & General Schedule
Since almost all of this photography adventure will be take place in the Fuji Five Lakes area, we will have lots of flexibility built into our schedule. This will allow us to visit locations in the best possible conditions. Keeping in mind that this is likely to change based on the weather, here is a tentative schedule:
Sunday, April 15 || Meet in Tokyo at 12pm, travel by bus to Fuji-Kawaguchiko. Settle in at the inn, followed by sunset session.
Monday, April 16 || Photography from sunrise to sunset around the Fuji Five Lakes area. Evening post-processing session.
Tuesday, April 17 || Slightly more restful day, still with lots of photography and a special group dinner.
Wednesday, April 18 || Photography from sunrise to sunset around the Fuji Five Lakes area. Evening post-processing session.
Thursday, April 19 || Sunrise session and morning post-processing session, plus image critiques. Group adventure ends at noon.
Cost
The total cost for this 5-day photography adventure is ¥330000+ (~$2910 USD) per person.
This cost covers: all travel during the adventure (including Tokyo to Fuji and back), all lodging during the adventure, four special meals, guidance and photography instruction by Les Taylor, any necessary entrance fees (e.g. to parks, etc.).
This cost does not cover: travel to and from Japan, Daily meals (though we will typically eat together and some may be covered by the hotel stays), souvenirs, unscheduled travel, travel insurance, etc.
Mt Fuji & Cherry Blossom Disclaimer
It is important to realize that both Mt. Fuji and the cherry blossoms are strongly affected by weather conditions. A cloudy day can completely obscure visibility of the mountain, and temperatures leading up to cherry blossom season can significantly speed up or delay the blossoms. The planned dates and schedule flexibility give us the best possible chance to see everything. However, that is the great part about having Les as a guide—he knows the area well, and will use his experience and knowledge to make sure that, regardless of conditions, the adventure group has optimal opportunities for photography.