About The Japan Photography Adventure
Japan is a beautiful country that is a delight to explore as a photographer. During this 10-day photography adventure, we'll be taking in the diverse scenery Japan has to offer, all through the camera lens. Our main locations will be Tokyo, Kyoto, and Mt. Fuji, where we'll visit ancient shrines, see modern marvels, and even enjoy epic natural landscapes. Along the way, photographer Les Taylor will guide you to well-known spots and hidden gems, helping you create the best possible images – images you'll be proud to share when you return home. Throughout the adventure, Les will also offer time to cover post processing using programs like Adobe Lightroom and Photoshop, to help you take your photography to the next level. Of course, you'll want to enjoy more than just photography on an adventure like this, so we'll be staying in great hotels and eating delicious foods like sushi, udon, and more, as well as soaking in the beautiful Japanese culture as we enjoy tea ceremonies and hot spring baths. You'll even have the opportunity to travel by the world-famous shinkansen (Japanese bullet train). This is a once-in-a-lifetime photography adventure you don't want to miss!
About Les Taylor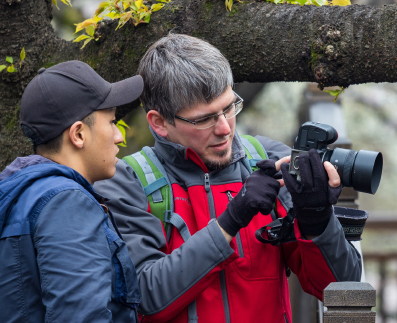 Les Taylor is an American photographer with abundant experience photographing Japan. Aside from selling prints and licensing of his images, he has also done many photographic assignments for Japan Travel, and his work has appeared in publications like National Geographic Traveler Magazine and Jetstar Magazine. In addition to his experience leading photo tours in the country, Les also has nearly 10 years of experience as a resident of Japan—so not only does he know the country well, but he also speaks Japanese, making him the perfect guide for a photography adventure like this. Japan is one of Leslie's favorite locations in the world, and he looks forward to sharing this unique and memorable experience with you!
Dates & General Schedule
We will be flexible with weather conditions, so it's difficult to say exactly where we'll go each individual day. However, with that in mind, here's a basic outline of what we'll be doing during this 10-day photography adventure:
Wednesday, May 29 || Meet in Tokyo at 12pm, travel by shinkansen (bullet train) to Kyoto. Settle in at hotel, followed by evening photography session. Enjoy a nice dinner together.
Thursday, May 30 || Out all day exploring Kyoto with our cameras, visiting ancient temples and bamboo forests.
Friday, May 31 || Out all day in Kyoto again. Tea ceremony & geisha photo hunting. Post-processing session following dinner.
Saturday, June 1 || Travel from Kyoto to Mt. Fuji. Rent bikes, then afternoon & sunset shooting around Lake Kawaguchiko.
Sunday, June 2 || Photography around the Fuji Five Lakes area all day by van. Nighttime photography of the Milky Way over Mt. Fuji.
Monday, June 3 || Photography around the Fuji Five Lakes area all day by van. Visit to an onsen (natural hot spring bath). Post-processing session following dinner.
Tuesday, June 4 || Travel to Tokyo. Afternoon in the city, with evening sunset time along Tokyo Bay.
Wednesday, June 5 || Explore Tokyo, from tiny back streets to massive skyscrapers overlooking the city. Post-processing session.
Thursday, June 6 || Exploring Tokyo, seeing famous spots and hidden gems. Visit beautiful gardens and intricate temples. Evening image critique session.
Friday, June 7 || Morning exploration, final lunch together. Group adventure ends at noon.
Cost
The total cost for this 5-day photography adventure is ¥?????+ (~$???? USD) per person.
This cost covers: all travel during the adventure, all lodging during the adventure, all meals, guidance and photography instruction by Les Taylor, any necessary entrance fees (e.g. to parks, etc.).
This cost does not cover: travel to and from Japan, premium/import beverages, tips & gratuities, souvenirs, unscheduled travel, travel insurance, etc.
*Photography Adventure Disclaimer*
It is important to note that while we can be as flexible as possible, we can't control the weather. Japan's rainy season doesn't typically begin until late mid to late June, but we can't guarantee perfect weather every day. For that reason, please be prepared for various weather conditions (both for you and your gear), as we will still photograph even in light rain. Les knows each of the areas well, and will work with the conditions to give the group as many photography opportunities as possible.